WISE OWL HOSTELS KYOTO ──
Let's stay based in KYOTO central only 5-min walk from Kyoto station (Hachijo Exit, JR & KINTETSU).
WISE OWL HOSTELS has started monthly discount plan from October 2020.
¥29,000~ for dormitory bed, ¥44,000~for private room (including common service fee and accommodation tax)
No initial fee charged!
No reason to think, come to KYOTO with your minimum stuff.
Living in hot city KYOTO to go to work, to school, for workcation.
Walking distance to the big shopping store (AEON), Don Quijote and reasonable to buy necessities and souvenirs.
Please check
here
for more details.
The video clip of the opening event "PLAY JOURNEY! Kyoto" has been released.
From February 22~25, PLAY JOURNEY performed "PLAY JOURNEY! Kyoto Edition" at our hostel.
On each day, 3 different artists painted cherry blossoms onto 3 photographs by different photographers while PLAY JOURNEY performed their play about travel in Kyoto and cherry blossoms.
3 cherry blossoms, fully bloomed at the moment of the 3 consecutive showcases end, will be covering a whole wall of the hostel lobby for a while.

coming soon
WISE OWL HOSTELS KYOTO offers 30 private rooms for 2 people, and a Single Dormitory with full privacy of a private room.

Mixed Dormitories and Female Dormitories are also available.

Toilets on each floor, and powder rooms, showers, bathrooms and coin laundries are located in B1 floor.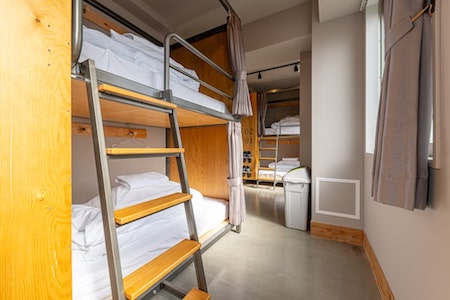 ROOM&BED FACILITIES

Free Wi-Fi

USB jack

Plug

Blackout curtain

Room shoes

Hanger

Reading light

Locker with key

Bath towel
SHARED SPACE FACILITIES

Iron

Bath room

Laundromat

PC
OPTION

Toothbrush
¥50

Yukata (rental)
¥200

Razor
¥100

Body towel
¥100

Ear plugs
¥50

Copy
Black and white 1sheet ¥10
color sheet ¥30

Skin care
¥150

Washing powder
¥50

Extra bed-making
¥500/each time
WISE OWL HOSTELS KYOTO
96-1 Nishikujo Ikenouchi, Minami-ku, Kyoto
Tel:075-748-6683 Fax:075-748-6684
【Train】
-5 mins from Kyoto St. on JR Line and Kintetsu Line
-5 mins from Toji St. on Kintetsu Line