WISE OWL HOSTELS TOKYO ──
The first WISE OWL HOSTELS that rooted right in front of the Hatchobori station.
Tokyo Station, Ginza, Tsukiji outer fish market, and Nihonbashi are in walking distance, and you can even get to the Tokyo Disneyland in only 11 minutes by direct train.
This neighborhood has been a business district for decades.
And WISE OWL HOSTELS TOKYO has been its landmark ever since its presence, illuminating the streets with pink neon and artsy murals.
We have our General Manager "Hachi" who is a real owl, welcoming our guests at the reception.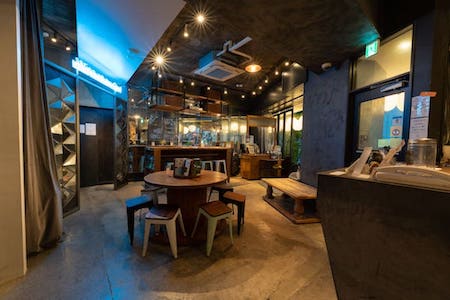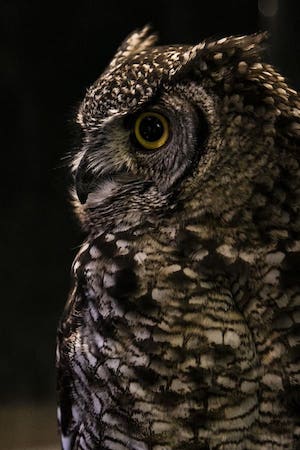 General Manager「HACHI」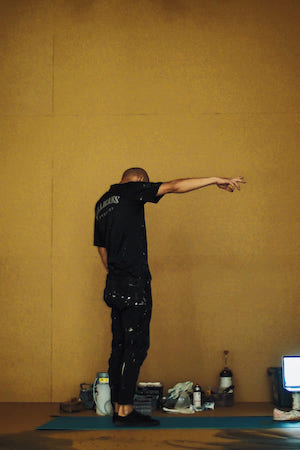 Wall Artist Jun Inoue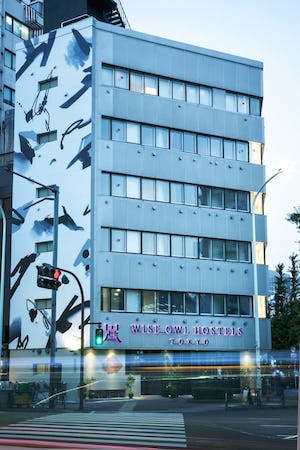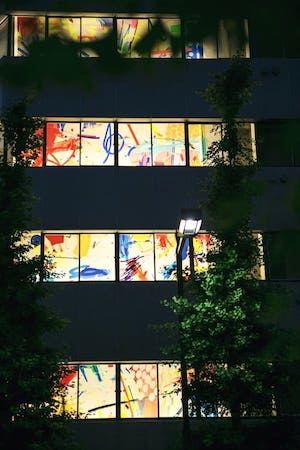 Rooms
All of our dormitory beds in WISE OWL HOSTELS TOKYO are equipped with staircases instead of ladders,
which also function as shoeboxes. Each bed has a ventilator installed to ensure the air circulation.
A lamp in each room to indicate the vacancy of the showers.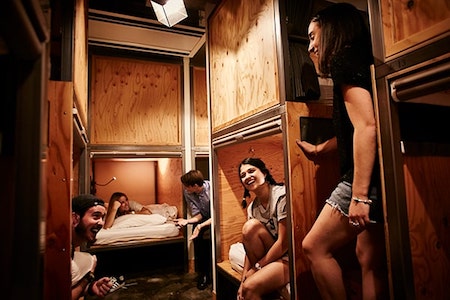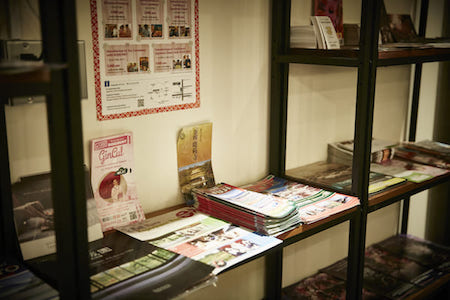 Lounge
The lounge area is available for 24 hours exclusively to our guests.
It has kitchen, TV, PCs, magazines, brochures, and books introducing staff's recommendations and information for events. Moreover, there are fridge, laundry machines, and iron for those of travelers staying for long term.
ROOM&BED FACILITIES

Free Wi-Fi

USB jack

Plug

Blackout curtain

Room shoes

Hanger

Reading light

Locker with key

Bath towel
SHARED SPACE FACILITIES

Kitchenette

Iron

Laundromat

PC
OPTION

Rental Wi-Fi
¥500/DAY

Toothbrush
¥50

Yukata (rental)
¥200

Razor
¥100

Body towel
¥100

Ear plugs
¥50

Ear plugs & Eye mask
¥150

Copy
Black and white 1sheet ¥10
color sheet ¥30

Skin care
¥150

Washing powder
¥50

Extra bed-making
¥500/each time

Bicycle Rental
¥1,500~/3H
WISE OWL CAFE 1F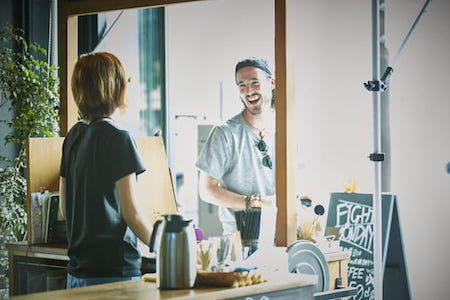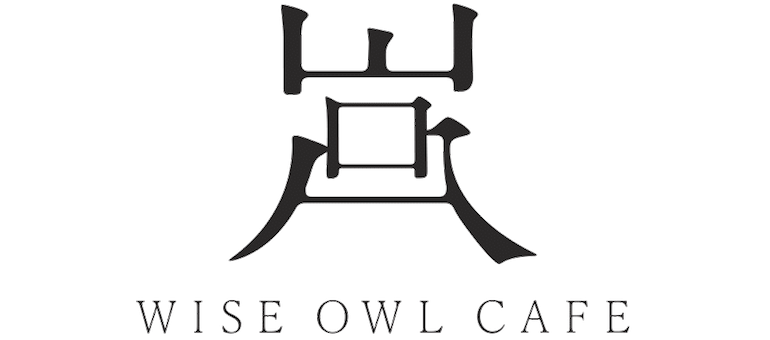 WISE OWL CAFE, located in the hostel's lobby provides the morning coffee.
Not only the hostel guests, but anyone is welcome to use.OBSCURA COFFEE ROASTERS in Sangen-Jaya,
a famous coffee beans distributer, provides our original blended coffee.
We also have seasonal menus, cookies, and muffins.
Our hostel completely equipped with FREE Wi-Fi.
MENU
Coffee (HOT/ICE):¥300~
Muffins:¥300
Cookies:¥150~
Banana:¥100
Seasonal Menu also available

※Business time has been changed due to the government declared a State of Emergency.
The business hours from January 8th to February 7th will be shortened.
Business Hour 11am~3pm
SOUND AND BAR HOWL B1F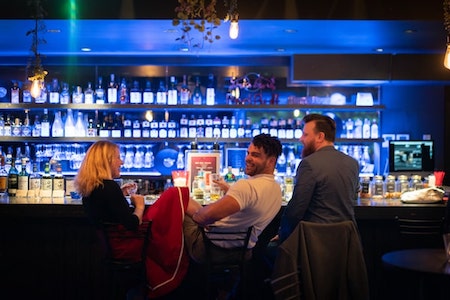 One and Only Bar where you can enjoy the most pleasant sound, DJs, Live and Art.
"HOWL" which means "shout", was named after OWL with an H added.
By straining your ears in the darkness of deep forest, you will be surrounded by the most pleasant sound you will ever experience.
Lose track of time at HOWL. Endless night will begin.
MENU
Drinks:¥500~
※Business time has been changed due to the government declared a State of Emergency.
Will be closed from January 8th to February 7th.
Opening Hours:18:30~0:00
Closed:Saturdays and Sundays
Tel:03-5541-3329
Number of Seats:19
*Please contact us for further details about reserving and planning events
MORE DETAIL
JAPANESE SAKE/ODEN/SNACKES FUKURO 1F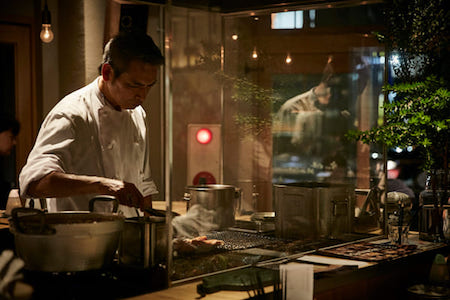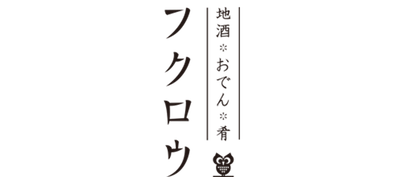 Specializing in well-known Japanese stock soup known as `DASHI`, our guests can relish their meals accompanied by our widely-selected local Sake served at Fukuro-Oden.
Our rich selection of seasonal and artisanal ingredients used to create DASHI used for Oden
and fish paste celebrates each and every season.
Gathering around a counter table surrounding pots consisting of three types of Dashi, our guests can enjoy delectable cuisine made by carefully-selected meat and vegetables.
Lunch menu, serving a bowl of rice with nutritious soup and side dishes is well known for locals.
※Business time has been changed due to the government declared a State of Emergency.
The business hours from January 8th to February 7th will be shortened.
Business Hour 11:30am~8pm
Open hours on weekdays:
Lunch time 11:30~14:30 (L/O 14:00)
Dinner time 17:30~23:00
(Food L/O 22:00, Drink L/O 22:30)
Open hours on Saturdays:
17:00~22:00
(Food L/O 21:00, Drink L/O 21:30)
Closed:Sundays, National holidays
Tel:03-6222-8453
Number of seats:38
MORE DETAIL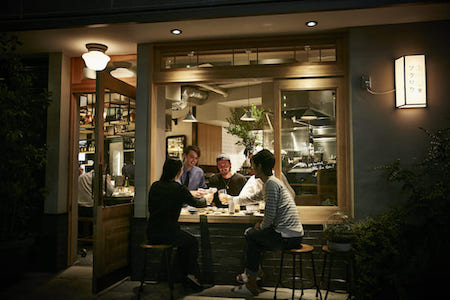 WISE OWL HOSTELS TOKYO
3-22-9 Hatchobori, Chuo-ku, Tokyo
Tel:03-5541-2960 Fax:03-5541-2961
【Train】
Tokyo Metro Hibiya Line・Keiyo Line「Hatchobori station」
30-sec walk from B1 or A1 Exit.
It takes 43 min from Haneda Airport to Hatchobori Station,
It takes 75 min from Narita Airport to Hatchobori Station,
It takes 2 minutes to Tokyo Station. 15 minutes to Asakusa Station,
23 minutes to Shibuya Station, 8 minutes to Tsukiji Station.